Affiliate Program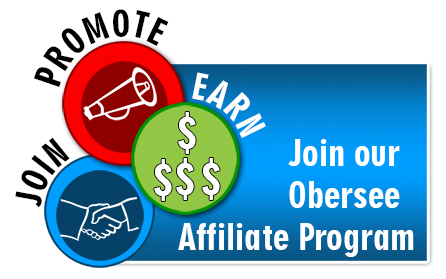 Don't Missed Out on Our Obersee Affiliate Exponential Growth!
Earn extra cash and passive income with your blog, website, social media accounts, video channel, followers or email newsletter!
Join our affiliate program and earn 8% to 12% commission from each sale. …It's simple to do and it's free!
At Obersee, we strive to create products for the entire family that feature principles of creativity, functionality and a funky spirit. We strive to offer products that are unique, stylish, and, most importantly, cool.
Through our designs we strive to please our customers by incorporating patterns and prints that embody the fun spirit of today's modern youth (and adults) so that consumers can express themselves freely without loosing the functional aspects of the product.
What's In It for You?
8% - 12% Commission
1.8% Average Conversion Rate
$89 Average Order Value
60-day referral cookie
Promotional coupon codes
Exciting affiliate contests and incentives
Professional and consistently updated selection of creatives
Monthly Affiliate Newsletter
Dedicated Affiliate Manager to answer all your questions
WHY SHOULD YOU JOIN OUR AFFILIATE PROGRAM?
Reputable Brand
Obersee is a family owned company that takes pride in creating quality products at reasonable prices. You are also assured that your customers will be satisfied with our products. Please visit our testimonial page at 
Attractive Commission Rate and Incentives
We offer an attractive commission rate of 8% to 12% on every sale you make. And there's more!!! Expect a regular fun and rewarding affiliate contests and incentive programs too! 
High Conversion Rate
Our products and landing pages are so effective that 1.8% of visitors converts while our top affiliates converts way over that. Now do the math on how much you will earn from that!
Huge Selections of Creatives and Tools
We will provide you with wide selections of creatives and marketing tools from the time you sign up. From the beginning of our partnership, you will have full access to as many tools you needed, whether it is text links, banner ads, coupons, vouchers and even co-branded customizable landing pages.
High Quality Customer Service
We will make sure that your customers will come back for more. Obersee believes that customer satisfaction is an integral part of its business. And with that said, we will ascertain that your customers will become one of our happy customers!
Strong Back Office Support
We are in this business for many years and we are backed up with years of experience. You are backed up with a strong team. We will handle all the dirty work for you and rest assured that we will not just deliver but we will amaze your customers.
HOW TO GET STARTED?
If you already have a ShareaSale Account:
If you don't have a Shareasale account yet, create an account first and wait for Shareasale to approve your application. 
Once you have an active Shareasale account already, just login to your account and look for the Merchant Tab. 
On the Merchant Tab, click on click on Search for Merchants. 
On the search box, just simply type in Obersee and click Search button. 
You will see information about Obersee affiliate program and when you are ready to join, just click Join Program. A pop-up window will appear and you can read through the affiliate terms. If you agree with our terms, tick check the "I have read and agree to the Program Agreement for Affiliates:" box and click the Join this Program button. 
We manually approve affiliates so it takes about 48 hours to get approval confirmation. 
Once you received the approval notification from your email, you will receive a Welcome Letter where the link to the affiliate resources are indicated. 
You can also login to your Shareasale account and check which banner or text link is appropriate with you. Once you've decided the link you want to use, just click the Get the HTML code. 
Just copy the HTML code of the creative you like and paste it into your website or email. 
If you don't have a ShareaSale account yet, just register for an account and once you get approved, just follow the instructions above.
If you have any questions or need further assistance, please feel free to contact us at affiliates@obersee.com.